RICHMOND, VA: FREE Community Health Screenings at River City Market
RICHMOND, VA: FREE Community Health Screenings at River City Market
Monday, September 25, 2023 1:00 PM - Friday, September 29, 2023 6:00 PM (EDT)
Description
River City Market is proud to collaborate with Muhammad Mosque #24 Ministry of Health & Human Services to provide free community health screenings. Join us for a free screening and get your groceries in the same location! Haven't shopped at River City Market before? We're a neighborhood grocery store with organic locally grown fruits and vegetables, supplements, natural skincare products, and much more!
Every 2 weeks on Mondays and Fridays:

Specific Dates:
Friday, April 28th
Monday, May 8th
Friday, May 12th
Monday, May 22nd
Friday, May 26th
Monday, June 5th
Friday, June 9th
Monday, June 19th
Friday, June 23rd
Monday, July 3rd
Friday, July 7th
Monday, July 17th
Friday, July 21st
Monday July 31st
Friday, August 4th
Monday, August 14th
Friday, August 18th
Monday, August 28th
Friday, September 1st
Monday, September 11th
Friday, September 15th
Monday, September 25th
Friday, September 29th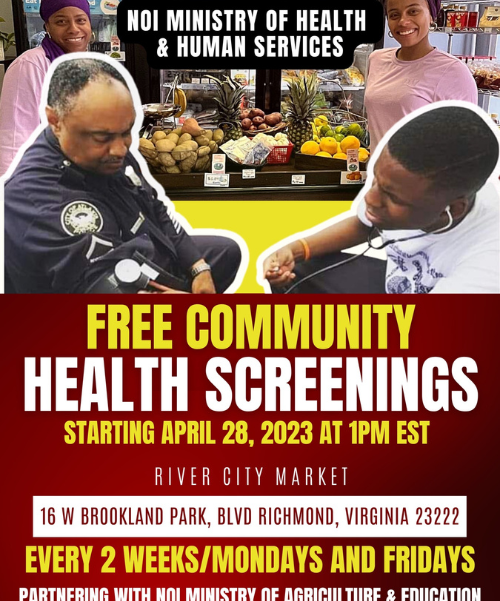 Pricing
FREE, 100% free health screenings!
River City Market
16 W Brookland Park Blvd



Richmond

,

VA

23222

United States



Monday, September 25, 2023 1:00 PM - Friday, September 29, 2023 6:00 PM (EDT)
Every 2 weeks on Mondays and Fridays starting April 28th

Specific Dates:
Friday, April 28th
Monday, May 8th
Friday, May 12th
Monday, May 22nd
Friday, May 26th
Monday, June 5th
Friday, June 9th
Monday, June 19th
Friday, June 23rd
Monday, July 3rd
Friday, July 7th
Monday, July 17th
Friday, July 21st
Monday July 31st
Friday, August 4th
Monday, August 14th
Friday, August 18th
Monday, August 28th
Friday, September 1st
Monday, September 11th
Friday, September 15th
Monday, September 25th
Friday, September 29th
Categories
Community Event
Member Hosted Event
Educational Event