CHESAPEAKE, VA - Village Family Halloween Costume Charity Ball
CHESAPEAKE, VA - Village Family Halloween Costume Charity Ball
Saturday, October 28, 2023 8:00 PM - Sunday, October 29, 2023 12:00 AM (EDT)
Description
🎃 Unleash Your Generosity at the Spooktacular Charity Dance Party! 🎃
👻 Calling all heroes of compassion and advocates of change! Prepare to be enchanted by a night of eerie elegance, bewitching beats, and a dash of magic, all in the spirit of giving back to our beloved underserved communities.
🌟 Join us for a Halloween Costume Charity Ball Fundraiser that promises an unforgettable evening of thrills and chills. We're not just throwing a party; we're igniting hope and creating a brighter future together.
🎉 Picture yourself swaying to hauntingly good music, surrounded by fellow souls with hearts as big as the full moon. Dance like nobody's watching and help us raise the roof (and funds!) for our new building capital campaign, dedicated to uplifting underserved communities.
🍔 Indulge in a delectable array of heavy appetizers that will tantalize your taste buds, while the cash bar serves up spine-tingling concoctions that'll put a spell on you. Capture the memories with our photographer, where every snapshot contributes to a bigger picture of positive change.
🪩 It's not just a dance, it's a chance to make a lasting impact. By donning your most creative Halloween costume, you're not only part of the party; you're part of the solution. Every dance move, every laugh, and every connection made will pave the way for a stronger, more empowered community.
🏰 Your presence will help build bridges, break barriers, and bring dreams to life. This is more than a fundraiser; it's a celebration of unity, kindness, and the endless potential within each of us.
🎫 Tickets available at: https://villagefamilyhalloweencharityball2023.eventbrite.com
🎗️ All proceeds directly support Village Family community outreach initiatives to empower underserved communities.
Dress to impress, dance with purpose, and be part of the magic. Let's light up the night with generosity and pave the way for a brighter future. Together, we're unstoppable!
See you under the moonlit sky,
Village Family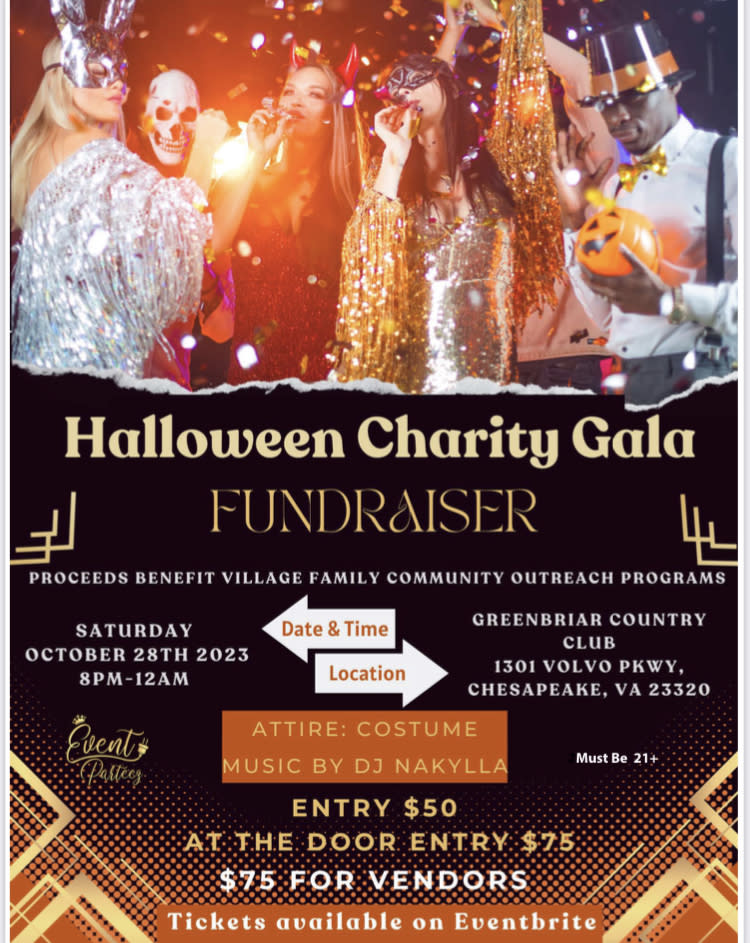 Pricing
FOR YOUR INFO:
$50PP/$75 at Door // $75 Vendor Tables //
Cash Bar
Silent Auction & More
Must be 21 To Attend . Absolutely NO Refunds or exchanges. THIS IS A FUNDRAISER for a Great Cause.
Sponsorships Available
Saturday, October 28, 2023 8:00 PM - Sunday, October 29, 2023 12:00 AM (EDT)
🕰️ Save the date: Saturday October 28, 2023
Categories
Community Event
Business Networking
Member Hosted Event
Holiday Event